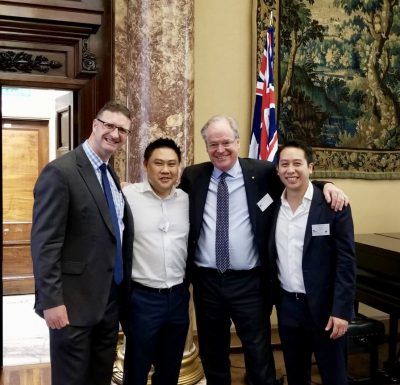 July 10th, 2018
Posted by Gobbill
Gobbill News, Media Releases, Startup
0 thoughts on "Victorian Government's Trade and Investment & UK Department of Investment and Trade: Gobbill UK"
The ICT/Technology Trade Victoria team and the Victorian Government's Trade and Investment (VGTI) office in London, in conjunction with the UK Department of Investment and Trade led a trade mission to London Tech Week from 10 to 15 June incorporating 60 delegates representing 44 Victorian companies.
Victorian tech company Gobbill and its partners announced that it has signed two global partnerships, one with myprosperity – a leading financial wealth management platform, and iSignthis Ltd – an Australian ASX and Frankfurt Stock Exchange cross-listed regtech company. myprosperity will distribute Gobbill's bill payment automation technology, while iSignthis will enable Gobbill to digitally identify customers anywhere in world and process card (global) and bank payments (UK & EU).
Read more at trade.vic.gov.au.
Photo from left to right – Stuart Bland (Vic Gov Trade and Investment Victoria), Shendon Ewans (CEO of Gobbill), Ken Ryan AM (Agent General for Victoria to the UK) & Galen Gan (Director, Gobbill) at Australia House, London