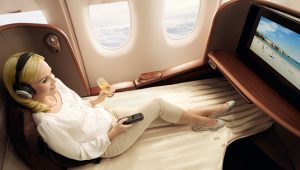 Source: Photo – Singapore Airlines First Class
"It's our pleasure to upgrade you to first class. Have a lovely flight." These are the words that we'd all like to hear on a 23 hour flight to London, but it rarely happens. Everyone deserves an upgrade once in a while. Maybe even a free holiday…
A sure way to feel like royalty while travelling is to earn and spend reward points wisely. Earning reward points is like money on the ground, but most people just don't have the time (or the insider knowledge) to pick it up. In addition, the reward scheme and how you spend points can determine whether points are valuable.
The first step is to find the right credit card to earn points. So we asked several experts for their advice. Our expert this week is Steve Hui.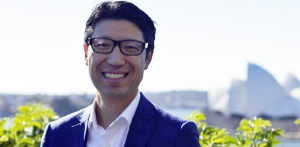 ---
Steve Hui is the CEO of iFlyFlat, a Sydney based travel concierge service that helps people to fly business and first class using points. We asked Steve for a few tips…
What should you look for in a credit card that earns reward points?
Remember that not all cards are created equal. There's a range of different cards out there earning different kinds of points. The first step to picking the right card is understanding what kind of points you need to collect, and that comes from decided which destination you would like to travel to. For every destination, different airlines require different points to fly there – so pick the right points for the right destinations.
Then you can compare cards within that range to find which one will earn you the most points per dollar.
Are there good ways to find and compare cards?
As we know, there's a range of airlines and cards to choose from. Once you have chosen what type of points to collect based on your travel intentions, it's time to compare the card benefits. There's a number of factors to consider;
1) Based on your spending habits, can you pay with mostly with AMEX or only VISA/Mastercard? (AMEX cards may earn more airline points per dollar)
2) Is the card capped as to a certain number of points?
3) Are there bonus points for certain retailers that you regularly use (e.g. Specific supermarkets and petrol stations)?
4) With my spending, will this card help me achieve my travel goal?
Which card do you use and what do you use it for?
Most of my points come from both a personal and business American Express card with each AMEX card earning between 2x to 3x points on every single dollar. The benefit of AMEX points is the increased flexibility. My AMEX points can be transferred to 10 different airline partners including Qantas, Emirates, Singapore and Virgin. Further, my points do not expire and are uncapped, so I can earn as much as I spend.
Remember to choose the card that works for your situation. Pay close attention to the points per dollar earnings and any caps/restrictions. Personally, I don't worry about the annual fees very much, because the value of flights I redeem with my points far exceed the annual fee by a factor of 10x.
Great insights from Steve at iFlyFlat. In addition, paying expenses online with a reward-friendly credit card is a great way to get those points moving. Using Gobbill, you can link your credit card to make payments automatically. This can earn you reward points much faster and, of course, you don't have to spend time actually paying the bills.
Gobbill also makes changing credit cards to earn bonus points a breeze. Want to pay one biller with a different credit card? Easy just change the details in Gobbill. In no time, you'll be enjoying your free flight upgrade or holiday.
Acknowledgments to Steve Hui, Chief Executive, www.iFLYflat.com.au – The Points Whisperer.